NOSO® patches are a fast and easy solution for rips and tears in all your gear.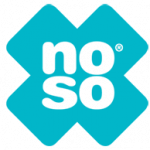 What are NOSO® patches?
No sewing necessary. NOSO® patches are the coolest all purpose repair patches that fix rips, holes and gashes in all of your clothes and outdoor gear. Use them to fix tents, coats, backpacks, sleeping bags and more!
Fun and fashionable, NOSO® patches are the best way to customize your gear and let your personality shine through.
Heat-Activated Technology – stick the patches on, then throw your gear in the dryer. The heat activates the adhesive, securing the patch in place.
Extend the Life of Your Gear – Repairs camping gear, sleeping bags, tents, clothing, down jackets – whatever needs a quick patch.
Do-It-Yourself Ease – Easy to apply and use.
Durable – Withstands extreme weather conditions and repeated washings.
Use Them to Repair and Protect
The patches adhere better to fabric than tape and don't gum up on the sides. Once the adhesive has been activated, nothing will pull them off.
NOSO® patches stay on forever! They keep your gear going longer than any other commercially available patch. We think this is important because we strive to promote reuse and repair. Noso wants to help you keep your gear out of the landfill for good.