THE KARI TRAA STORY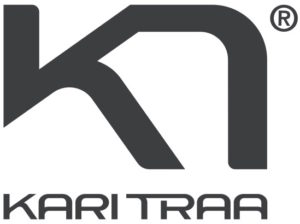 FROM OLYMPIC CHAMPION TO SUCCESSFUL SPORTS BRAND. Kari Traa is not just a champion freestyle skier with three Olympic medals to her name, but also the creator of the now fastest growing sports brand in Europe.
Kari's story begins in Voss, the small town caught between the Norwegian fjords and mountains, where she was born and raised. Kari`s Norwegian heritage has not only given her a talent for skiing, but also an eye for design and a unique passion for creativity. Even during the height of her skiing career, Kari somehow found ways to develop that creativity.
Being active in a male dominated sport, there were few brands for girls to choose gear from. Sponsors provided Kari with black and grey dominated, masculine skiwear. So sometimes, Kari would cut of the logo on her beanies and sew them on to her own designs.
KNITTING AND SKIING
In between training and competing, you would find Kari knitting beanies and customizing her own ski wear. Creating designs that were to become so popular amongst friends and fellow skiers around the world, that in 2002 she decided to turn her hobby into business. And so the Kari Traa brand was born.
The Kari Traa collection has grown from that small selection of feminine headgear into a complete, extensive brand for active girls. A strong color palette, an unmistakable design and the highest technical quality is found in every item, from underwear to outerwear.
Even today, fond childhood memories, the rugged Norwegian nature, harsh weather conditions and a strong sense of Scandinavian traditions are still the sources of inspiration for Kari Traa's designs. Sportswear designed to perfectly fit the female body, but still fulfill the needs of an active, sporty and adventurous lifestyle. For Kari there are no contradictions between style and performance.
KARI TRAA FREESTYLE TEAM
When Kari retired after the Olympic silver in Turin in 2006 there was no one to pick up the legacy after her. With a strong desire to bring new female talents into the sport, she got the Norwegian Ski Federation and the Olympic summit with her to ensure recruitment of girls to mogul skiing and freestyle. The first audition to Kari Traa Ski Team was held in June 2006 where 14 young girls were selected into the team. Today new skiing talents are rocking the hills, one of them the up and coming Hedwig Wessel who took third place in the Freestyle Skiing World Cup in Moscow, Russia in 2016.
INTERNATIONAL SUCCESS
The Kari Traa brand was launched internationally in 2006, and is now firmly established in twelve other European countries, with constant growth in every market. The year 2015 marked a new milestone for the brand as it entered the US market. Overseas sales have already shown that American girls also appreciate the unique blend of usability and style.
And throughout the world, the spirit and drive of Kari Traa to inspire girls to DARE TO PLAY, is carried out by sporty and daring ambassadors. Each spreading Kari`s high performance training wear and encouragement: For girls, by girls.